Communication Studies Undergraduate Program
---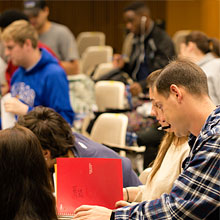 The Communication Studies undergraduate major equips students with a diversity of skill sets by investigating communication in various cultural contexts, including relational, organizational, intercultural, political, and more.

In an increasingly globalized world, competent communication is crucial for career advancement, interpersonal relationships, and public democratic participation. Here's what we know: humans rely on communication, and the creation and translation of symbols, language, and messages are integral to daily interactions. In other words, communication connects us.

The major expands on fundamental public speaking principles from the introductory course through emphasizing theories, methods, performances that apply to everyday communication practices.
Degrees offered: