Matt Hickam's Meandering Career
---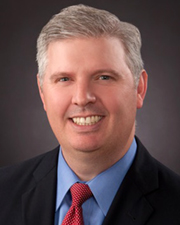 Tuesday, November 14, 2017
Like many KU undergraduates, Matt Hickam (Class of 1989) changed his major focus three times.  As a freshman he initially considered becoming an optometrist.  Then he thought about switching to music, since he had a music scholarship and enjoyed playing saxophone in the KU Jazz Ensemble and marching band. At some point, however, he enrolled in a COMS class and thought a degree in Communication Studies might help him get a job after graduation. And it did.
His most vivid memory of his time as an undergraduate in the late 1980's was taking a course with Professor Emeritus Bill Conboy called Communication and the Future.  He proposed the "crazy" idea that someday people would be able to watch any movie they wanted whenever they wanted from the comfort of their own home!
After graduation, Matt worked for about 18 months as stock trader before landing a job at Pfizer Pharmaceuticals.  Then, after a couple years with Pfizer, Matt joined Senator Bob Dole's office in Washington DC.  This was during the mid-1990s as the Clinton Administration was pushing for an overhaul of the US health care system.  Matt's experience in pharmaceuticals, combined with the communications degree, helped his resume stand out in a field of candidates.  He continued working for Senator Dole during his unsuccessful bid for the 1996 presidential election.  In 1997 Matt was appointed by Governor Bill Graves to be an Ombudsman for the state of Kansas so he moved back to his hometown, Topeka.  He continued working in public affairs for several years before launching his own firm, Hickam Public Affairs, in 2010.
Matt says that the best thing about a degree in Communication Studies is that "it creates a foundation that prepares you to take advantage of any number of opportunities."  Matt built a career around his communication skills that helped him to navigate changing political climates,  evolving technology, and unexpected turns.  Indeed, Matt noted that the ability to communicate effectively is even more important in today's media saturated world and will be even more critical for future Jayhawks. 
Matt and his wife, who is also a KU graduate, live in Topeka and have three daughters.  The oldest two are continuing the KU tradition and are currently undergraduates.