Beth Innocenti
---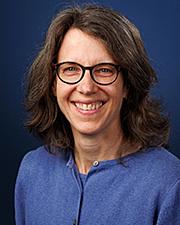 Professor
Director of Undergraduate Studies
Biography
—
Ph.D., University of Illinois
Rhetoric & Political Communication
Beth Innocenti's teaching and research interests are in the history of rhetoric and argumentation. She is particularly interested in eighteenth-century rhetoric, early American public address, and norms of argumentation. She regularly teaches the undergraduate course "The Rhetorical Tradition," bridge course "Rhetoric of Woman's Rights," and graduate seminars "Argumentation," "Neoclassical Rhetorical Theories," and "Research Methods: Historical and Descriptive." Her work has been published in journals such as Argumentation, Philosophy and Rhetoric, and Journal of Communication. She serves as Editor of Argumentation and Advocacy.
Selected Publications
—
Recent publications
• Goodwin, Jean, and Innocenti, Beth. "The Pragmatic Force of Making an Argument." Topoi 38.4 (2019): 669-680.
• Innocenti, Beth. "Foiling Kamesian Belletristic Theory in Mid-Eighteenth-Century Scotland." Advances in the History of Rhetoric 22.1 (2019): 51-72.
• Kauffeld, Fred J., and Innocenti, Beth. "A Normative Pragmatic Theory of Exhorting." Argumentation 32.4 (2018): 463-483.
• Innocenti, Beth, and Kathol, Nichole. "The Persuasive Force of Demanding." Philosophy and Rhetoric 51.1 (2018): 50-72.
• Innocenti, Beth, and Miller, Elizabeth. "The Persuasive Force of Political Humor." Journal of Communication 66.3 (2016): 366-385.