Darrion Walker
---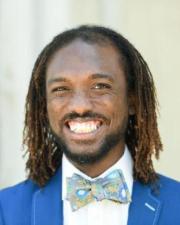 Ph.D. Program
Graduate Teaching Assistant
Biography
—
Darrion is a scholar-practitioner and Ph.D student who serves as a Graduate Teaching Assistant in the Department of Communication. Before beginning his doctoral studies in the fall of 2022, Darrion practiced law as a trial attorney for approximately 7 years - over time having served both Missouri and Kansas as a felony prosecutor, as an in-house trial attorney for a major insurance company, and also as a solo practitioner in criminal defense.
Prior to practicing law, Darrion earned his Juris Doctor at the University of Missouri School of Law in Columbia, Missouri; immediately before law school, he earned his Bachelor of Science in Socio-political Communication from Missouri State University in Springfield, Missouri. 
At KU, Darrion studies legal communication, with particular research interests in judicial politics and decision-making, judicial bias, the effect of pre-trial publicity in litigation on courts and public opinion, rhetorical studies on legal and judicial discourse, jury behavior and decision-making, and free speech issues in social media. 
Areas of Specialization: legal communication, judicial politics and decision-making, judicial bias, the effect of pre-trial publicity in litigation on courts and public opinion, rhetorical studies on legal and judicial discourse, jury behavior and decision-making, and free speech issues in social media