Dorthy Pennington
---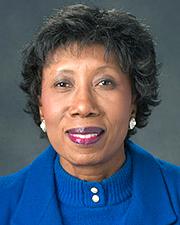 Biography
—
Ph.D., University of Kansas
Relationships & Social Interaction
Dorthy Pennington's teaching and research areas are intercultural and interracial communication/critical race theory, cultural rhetorics, African American communication and culture, the discourse of terror and trauma, and African American regional church history.
Research
—
Ongoing Research
Mediation and memory in the rhetoric of Condoleezza Rice. A paper from this body of research garnered a top paper award at the 2008 NCA Convention
Identity mediation and diunitality in the rhetoric of Barack Obama
Social movements in African American communication and diaspora studies
Racial identity and power
Theoretical constructs and applications in interracial communication-book manuscript completed; in search of a publisher
Selected Publications
—
Recent Publications
"Emic, Etic, and Andragogy: The Contributions of Nobleza Asuncion-Lande to Intercultural Communication, " Journal of Intercultural Relations, 26(2012).
"Barack Obama's 'Authentic Self' as a Spiritual Warrior," Howard Journal of Communications, 2014 – 2015.  DOI, 2014;  26(2015), 74-94.